This week I am extremely grateful that 72. if I had to be in the middle of so much money being sucked into my cars' calamities it at least happened at a time when I'm teaching one extra day a week and still at the library for two evenings a week.
For 73. I am most grateful that Mattman's teacher has changed her focus, and for 74. I LOVE how well my two clever suns do their homework, even coming home briefly from Saint K's house this evening for that express purpose.
I know he's in a lot, but at 75, I really love my husband. Who will not only have been the main man tonight and tomorrow while I'm at work, but will also be the single rudder, peace broker and referee when I'm in Glasgow this weekend.
76. I'm in Glasgow with my mother this weekend! For the Country Living Christmas Fair in Scotland and there's even a French Film Festival on at the same time. Christmas is coming early to Mags! She might even buy something nice- perhaps at the Burrell Collection on Sunday!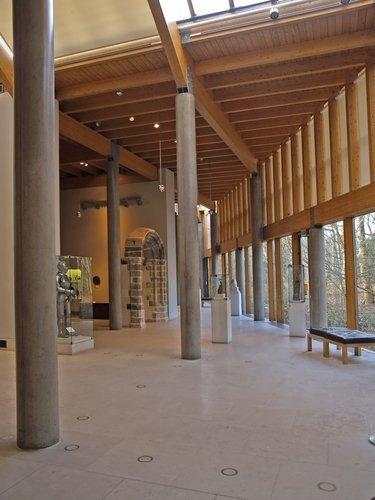 77. is for our new vice-principal who does seem to be a most humane individual, and he has a very nice green coat. 78. is for the kind colleague who will give me a lift to school on Friday morning. 79. is for the other kind colleague who reminded me that it's not actually me who has to produce GCSE coursework for all the recalcitrant pupils under my tutelage.
On the other hand (pun alert) I shall give 78. to the fine set of elegant grey wrist-warmers that I have nonetheless managed to produce in time for Glasgow.
79. is for the Christian God who is unashamedly the reason why I unreservedly celebrate Christmas and who graciously continues to sustain this little family of mine.
80. belongs to all the friends offering car journeys at this carless time, but 81. is for the summer eleven years ago when we held out for our house because it was in such beautiful walking distance of everything we need!